Cultured Akoya Pearl Rings
My uncle gave me my first pearl ring. I distinctly remember the single pearl on a gold band. It fit perfectly on my middle finger and I felt very beautiful and grown up. The other day as I listened to my 3-year-old granddaughter discuss her fashion preferences -- skirts over pants, purple over green -- I was able to bring back that little girl who stuck out her finger for all to see her first piece of real jewelry -- and from her adored bachelor uncle, at that.



Akoya Cultured Pearl Ring with Ruby and Emerald Accents
Whether your pearl ring is a single cultured pearl, or a ring with one black pearl and one white pearl, or a fabulous cluster pearl ring set in a gold flower with gold petals peeking through, or pearls combined with a few diamonds or colored gemstones, Akoya pearl rings are young jewelry - not ostentatious, but clearly fine jewelry.
Ring with a
Single Akoya Pearl in 14K Yellow Gold Mount

Akoya pearls, often called cultured pearls, although in fact, 99% of today's pearls are cultured, whether South Sea, Tahitian, freshwater, or Akoya. Akoya pearls are usually round, and range in size from 1 mm to a maximum of 10 or 11 mm. Akoya pearls became affordable to a wider market when Kokichi Mikimoto invented the art of culturing pearls in the 1920s in Japan. The invention of a technique to culture pearls caused the collapse and virtual end of the natural pearl market.




Pearl and Diamond Ring
Single Black Akoya Cultured Pearl in 14K White Gold Ring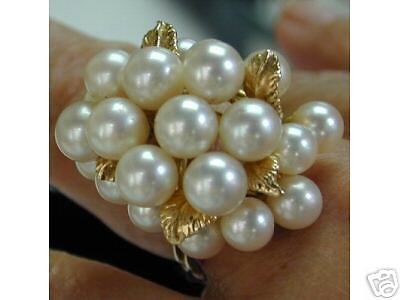 Cluster Pearl Ring with 14K Yellow Gold Leaves Peeping through Pearls

Black and White Akoya Pearl Ring
By all means wear your pearl ring often, but take care to remove it when using detergents
or cleaning materials. Do not shower or swim with pearl jewelry. Avoid knocking pearls against hard surfaces. Pearls are one of the more delicate gems, but with proper care good quality pearls can last for generations.


I sure wish I still had my first pearl ring...