Coral Jewelry For Spring
A recent article by in The Washington Post describes the latest rage:
Coral Jewelry or Reef Madness
. Journalist Alexandra Peers explains that prices are rising for jewelry featuring this rare organic gem. With a very real concern about the disappearing supply of quality coral, buyers are snapping up jewelry with any and all shades of coral, explained gemologist David Killen.
Coral carvings
, popular in the 1940s when soldiers brought them home from Europe, are once again desirable.
The article explains that,
... recently, harvesting of coral has been sharply curtailed, giving vintage pieces a particular appeal.
Peers gives this tip for ensuring you buy genuine coral:


How to spot real coral from fake? Real coral has lines underneath that intersect, very much like the grain in ivory. Another "tell": Real coral generally is mounted in silver or gold. Faux isn't.



Vibrant red coral brooches, delicate pink white coral carved earrings, angel skin beads, smooth salmon cabochons are tender

organic

jewels. Cared for lovingly, coral gems are instant heirlooms.



Genuine Italian coral

. Not treated or dyed. As the oceans of the world become increasingly polluted, coral is a disappearing gem. Top quality coral is difficult to find.
Click here to see our entire selection of fine coral jewelry

As always, our prices are a fraction of retail so that your fine jewelry purchase is a luxury piece to

bedazzle

and very likely, an investment.

Spring Wishes from,
PearlGirl






Italian Pink Carved Coral & Diamond Flower Pin/Brooch: $400



Italian Red Carved Coral & 14K Gold Brooch: $225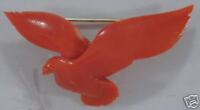 Italian Red Carved Bird Brooch: $425.00



Italian Red Carved Dolphin Pin: $370.00



Italian Red & Gold Dangle Earrings: $300



Pink Coral & Diamond Pendant: $165



Pink Coral Stud Earrings: $100



Pink Coral & Gold Brooch: $400