13.9 mm Tahitian Pearl Strand/Necklace 18" + Diamond Clasp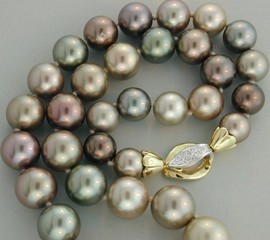 Location:
New York, NY
These are multi-hued natural color Tahitian pearls from the South Seas. The pearls range from 9.5 mm up to 13.9 mm at the center.Note the range of colors, from platinum gray, peacock, eggplant, black. The 18" necklace is composed with a yellow gold diamond clasp. Magnificently luxurious necklace with clean, round, well matched pearls hand-knotted on silk. Pearl size: 13.9 mm - 9.5 mmPearl shape: RoundPearl type: TahitianClean pearlsColor: multi-huedLength: 18"Nacre: ThickLuster: highClasp: Diamond clasp
Asking Price:
$10,000.00 per item
Seller Information:
Established seller of fine and estate jewelry since 1910.
Payment Methods:
Paypal, Check, Money Order
Color:
Multi-color tahitian pearl strand
Manufacturer:
Hand-strung on silk
Finish:
Round, clean pearls
13.9 - 9.5 mm round Tahitian pearls