15mm South Sea Pearl Necklace
15mm Silver-White South Sea Pearl Necklace 18"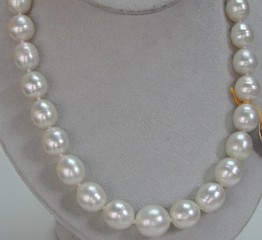 Location:
New York, NY
Lustrous silver-white South Sea pearl necklace held with a 11.5 mm 18K yellow gold ball studded with diamonds.# This magnificent graduated SILVER-WHITE South Sea necklace is composed of exotic slightly ridged oval pearls with high luster and thick nacre. Pearl size: 11.5 mm - 15 mm# Pearl color: Silver-white# Pearl shape: Slightly ridged, oval# Luster: High# Nacre: Thick# Length: 18"# No. pearls: 31# Clasp: 18K yellow gold ball studded with 114 diamonds.# Clasp size: 11.5 mm# Clasp diamonds: 114.# Clasp diamond weight: Total ct wt = 2.24 ct# Clarity: VS1# Color: G-H
Asking Price:
$17,500.00 per item
Seller Information:
Established seller of fine and estate jewelry since 1910.
Payment Methods:
Paypal, Check, Money Order
Color:
Silver white South Sea pearl necklace
Manufacturer:
Hand-strung on silk
Finish:
Round, clean pearls